America's biggest construction tradeshow — CONEXPO-CON/AGG — only happens every three years, so each one you attend is a badge of honor. The 2020 iteration is my fifth, and it will probably be one of the most memorable as the panic surrounding novel coronavirus COVID-19 seemed to crescendo the week during the event. Not to be deterred, Compact Equipment covered CONEXPO from the ground in Las Vegas, showing up the weekend before to attend a two-day Caterpillar pre-event. Then I personally explored the giant construction trade showcase, which recorded 2.7 million plus net sq ft of exhibits, featured some 2,300 exhibitors and attracted more than 130,000 total registrations, noting I haven't seen a final number on actual attendance. Oh, it also rained — in the desert.
With the exception of some last second dropouts, almost all the exhibitors showed up to support the show. Many had already been on site for weeks setting up. The show's organizer, Association of Equipment Manufacturers (AEM), expertly navigated concerns about COVID-19 as the situation broke across America. AEM sent out daily e-mails assessing the changing situation, provided hand sanitizer stations everywhere, passed out "No Offense, Just Makes Sense" no-handshake signs and buttons, worked extensively with the Las Vegas Convention Center to clean high touch areas like door handles and tables and then ended up closing the show a day early.
Like myself, many of the attendees and exhibitors I interviewed were given the opportunity to back out, and yet most still came. No one blamed those who chose to stay home. It was a crazy last second decision for most. In those same conversations, manufacturers and contractors always praised their employees who did attend for braving such a unique and intimidating situation. They knew we were all going above and beyond to not miss CONEXPO, and we respected each other more for it. We were all encouraged not to shake hands, but every hand you did shake was an extremely important one. It said that CONEXPO 2020 was not being defined by COVID-19. It was being defined by the passion and commitment of industry professionals, unafraid to overcome an act of god.
It was also defined by an impressive fleet of cool new or soon-to-be-released off-highway equipment, engines and services that we got to see first. A lot of the booths were pretty rad too. Let's celebrate those now.
Dedicated Dirt Experts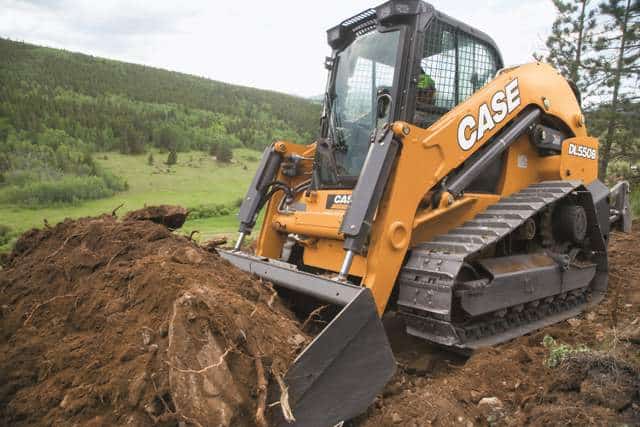 Compact track loaders continue to evolve into focused roll players. While skid steers are always touted for their versatility, powering attachments from brooms to breakers, some track loaders are being engineered as mostly dedicated machines — specifically for brush cutting and grade control applications. Considering the latter, both Case Construction Equipment and John Deere came out with first-of-their-kind, cool-as-all-get-out dedicated dozer and grade control track loaders. Case previewed its Project Minotaur track loader dozer concept three years ago at the last CONEXPO. In 2020, it debuted the all-new DL550B — a compact track loader with the chassis-integrated C-frame and the blade of a dozer to create a beastly unit for grading, pushing and loading applications.
"We're excited to come back with our dozer loader concept project," said Leandro Lecheta, head of construction equipment for Case CE North America, at a packed press conference. "You know this was one of the biggest stories of CONEXPO 2017 … We spent the last three years collecting feedback, both through our facilities in Wichita and at jobsites throughout the U.S. Now we have two models of the finished product — one with rubber tracks and one with steel tracks here today. We've got changes that you see from the original concept, like an increase in rates at operating capacity for 4,500 lbs up to 5,500 lbs, and the geometry has gone from radial to vertical. We have spent hundreds of hours enhancing its performance."
The DL550B will feature Case Universal Machine Control, which allows it to be outfitted straight from the dealer with any of the three major suppliers of grade/machine control technologies. It will also be compatible with Case SiteControl CoPilot, which provides a mastless machine control experience with basic control of slope/grade. The machine weighs approximately 18,000 lbs and operates at 114 hp. It is also available with an optional fully integrated ripper. Dealer orders will begin in Q4 2020 with units arriving in 2021. It should be quickly noted that Case also introduced the first fully electric backhoe loader at CONEXPO, the 580 EV, which you can read about in the colored sidebar in this post.
John Deere Construction and Forestry also proudly unveiled the SmartGrade 333G compact track loader, which comes integrated with a six-way dozer blade, John Deere's proprietary SmartGrade grade control tech and a mastless grade control setup. There is no word on exactly when the SmartGrade 333G will come out, but the unit will also benefit from the launch of DozerMode, a cool control solution that enables the EH joystick control system in the 333G to function like a crawler dozer with the push of a button. DozerMode is specifically focused on enhancing the use of the six-way dozer blade attachment.
"Our skid steer loader group sits next to our bulldozer group, so it's kind of like the Reese's Peanut Butter Cup. We smashed those two together," said Brian Rauch, senior vice president of engineering, manufacturing and supply management at John Deere Construction and Forestry, in a closed-door meeting with CE. "When you get into the 333G, you have SmartGrade with the touch of a button. You can go from loader controls to dozer controls. It can behave just like a dozer. We're really jazzed about it. We got it in front of a number of customers, and they were pretty excited too. They liked the utility. Now they've got a track machine that can go across asphalt and can go across somebody's yard without ripping it up like a dozer. They can go and spread material quickly and accurately, and then they can pop off the dozer blade and use it like a regular [track loader]."
The Four Best Booths at CONEXPO
Caterpillar's biggest marketing campaign ever, its Global Operator Challenge, came to its epic conclusion at Operator's Stadium, the gem of Cat's 60,000-sq-ft exhibit in the Festival lot. Nine of the best operators in the world competed in front of attendees in a variety of crazy timed skills. It was so impressive seeing guest host Mike Rowe took a backseat to the awesomeness.
Case Construction Equipment wowed big crowds with the quietness of its Project Zeus all-electric 580 EV backhoe loader, operating the unit in its indoor booth with zero noise and emissions. ACM/CMA award-winning artist Jon Pardi could be seen hanging with attendees, and everything from the Star Wars-looking, methane-powered ProjectTETRA wheel loader to Case's great kids toys kept you coming back.
JLG's Elevating Access booth sat right next door to Cat, and its sleek futuristic set of walkways and product displays highlighted the MEWP maker's focus on tech. Inside, JLG's virtual elevator tour was the coolest attraction at the show, along with that crazy transparent, organic-light-emitting diode screen showing JLG's self-leveling chassis working through jobsite scenarios. Plus, Sgt. McConnell.
John Deere's indoor exhibit encompassed 70,000 sq ft, and you could spend your day getting lost in it — five simulator stations, educational sessions, 74 total products between John Deere and Wirtgen Group (including that awesome restored 1970s JD24 Loader model commemorating 50 years) and an insanely large TV screen with Hollywood level video work.
Attachments Galore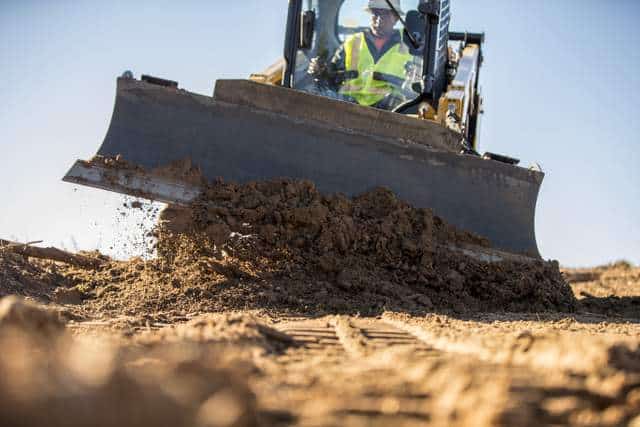 Grade control was also a major theme with attachments. Caterpillar continued its line of Smart Attachments with the addition of a dozer blade and grader blade. The control systems for these "Smart" attachments allow a Cat D3 Series host machine to recognize the attachment and unlock special display screens that allow the operator to select how the attachment is controlled. The Smart Dozer Blade is designed for cutting, moving and grading material using an Assist feature to return to previous blade slopes for convenience and accuracy.
Two Cat Smart Grader Blades also feature that Assist feature that allows operators to select either the cross slope right pattern or cross slope left pattern and maintain the cross-slope setting, independent of the machine's operating angle. As the blade is angled and geometry changes, the attachment calculates and maintains the cross-slope setting. The Cat GB120 Smart Grader Blade is 78 in. and the GB124 is 96 in. Both have unique optional wings, extending width to 85 in. and 103 in.
"We gave our engineers trailering and weight considerations because that's very important in all industries," explained Tharen Peterson, product application specialist, at the Cat pre-event. "So, we've reduced weight by not having side shift, but we feel the functionality of side shift is still there with the wings. You're still able to control the blade tip and work around obstacles. The wings also give you the ability to carry material like a box blade if you really want to."
Trimble announced Earthworks Grade Control Platform version 2.0 with all types of interesting new grade control features, along with the release of the Trimble Earthworks Assistant App for in-cab learning material. Earthworks 2.0 includes Horizontal Steering Control for dozers and augmented reality for excavators. Trimble Earthworks is also now available for compact grading attachments on track loaders with dual GNSS, single GNSS and total station guidance options.
"Earthworks will function on the new Level Best grader, the new Caterpillar grader, as well as the Bobcat HD Grader attachments. If the grading attachment works on the track loader, then we can put Earthworks on it," said John Boss, product manager for Trimble's Civil Engineering and Construction Division. "What's been really interesting to see is with previous systems we took solutions for larger machines and just made them work for smaller machines because that's what everybody was doing, and it worked for us quite well. However, what we've seen is with the dedicated displays that we now have for these track loaders, you can see that we can run dual GPS, single GPS or total station control and actually show the user what is going on exactly via the interface. You have the full 3D view. You can see your plan and where you are relative to that design."
Of course, CONEXPO wasn't all about grade control. Hammer innovator Montabert introduced a cool new water mist system to mitigate silica on jobsites. The spray feature will include an integrated hose protection design with a water inlet port, available on Montabert's smaller breakers including the SC-22 and SC-28. Fecon released its BlackHawk Mulchers for track loaders (see sidebar), designed specifically with knife-holding tools, which are faster and more efficient than carbide teeth or hammers, quickly shredding standing trees and vegetation and materials already on the ground (that's unique). Loegering Power Attachments introduced the ST Series stabilizing and milling skid steer and track loader attachments to the North American market, and everyone from Kinshofer to Cat to Doosan was showcasing new tiltrotators or tilt couplers for excavators (another hot new Euro attachment category).
Best of Show: Case Unveils Project Zeus, Industry's First Fully Electric Backhoe Loader
Case Construction Equipment has announced an impressive rollout of new equipment in the first quarter. All new skid steers and track loaders, the DL550B compact dozer, enhanced G Series wheel loaders, upgraded SiteWatch telematics and new "accessible backhoe loaders" designed to support operators with disabilities. But, its most impressive launch must be Project Zeus — the 580 EV (Electric Vehicle) — the construction industry's first fully electric backhoe loader boasting equivalent power to diesel with zero emissions. The 580 EV is powered by a 480-v, 90-kW-hour lithium-ion battery pack that can be charged by any 220-v/three-phase connection. Each charge will support most common eight-hour workdays. Utilities, utility contractors, as well as government and public works operations, are well suited for the 580 EV as they generally have initiatives aimed at lowering emissions, reducing noise in public workspaces and finding new ways to work within budgets. For more info, visit casece.com.
Two Giant Standouts
Kubota Tractor Corp. set up an interview a week before CONEXPO because it was so excited to talk about its entry into the compact tool carrier market, calling its unit a "stand-on track loader," with the introduction of the SCL1000. This is a sleek-looking CTC, and one of my favorite machine designs at the entire show — those wide 9.8-in. tracks, that narrow body and slick orange hood, 24.8-hp turbocharged Kubota diesel, vertical-lift boom and 4.3-in. LCD color dash monitor. The unit turned heads, and it and its six attachments will be available at select authorized Kubota dealers in the second half of 2020.
"Our machine has keyless start and a password protection dash on it," explained Tim Boulds, CE product operations manager for Kubota, over the phone. "We are only 36 in. wide with a wide track. None of the other competitors can be that small with a wide track on their machine. We're the only ones that are going to have a turbocharged engine under 25 hp. The machine itself is vertical lift, and I think we are the second highest as far as lift height and reach."
On the mobile elevating work platform side of things, JLG's Davinci all-electric scissor lift stole the show. It is "all-electric," meaning it doesn't use hydraulic oil, so no leaks and no diapers. The AE1932 is the first lift in a new category of all-electric lifts for JLG called the Davinci Series, a nod to the famous inventor. The AE1932 has minimal environmental impact with zero emissions, resulting in clean, quiet operation. The 19-ft platform height, 32-in. wide scissor provides a class-leading platform capacity of 600 lbs both indoors and outdoors. The machine also travels two times faster than a standard scissor lift and charges 3.5 times faster, according to JLG.
"On this unit, you're going to have AC drive, and that means it's virtually maintenance free. It has no brushes to replace," said Rafael Nunez, senior product manager of scissor lifts at JLG, during our walkaround in the awesome outdoor JLG booth. "The steer actuator — normally hydraulic — is electric, and consumes about 3 percent of the energy vs. our normal hydraulically-steered machine. The next thing is the lift system. There's no oil in it at all. It's fully electric, no hoses going into it and no leaks at all. It's going to give you 600 lbs indoor, 600 lbs outdoors all the way to 19 ft. That's important. The majority of people in the industry are not going to be at 19 ft outdoors within A92.20 standards. Also, because this is fully electric, it's going to be the only machine in the industry that's going to recharge on the way down."
You can even control the AE1932 via JLG's new Mobile Control app, allowing you to drive, steer and load your stowed scissor lift from your mobile device.
Go See the Rest on this Site
Out of all my visits to booths and press conferences, these compact machines mentioned above impressed me the most, but that's not the end of the story. Please check out the sidebars for equally big CONEXPO product news, then jump around online to see our total coverage that includes the unique wheeled excavators of Mecalac, Perkins' trio of hybrid engine concepts, Serious Labs' virtual equipment simulators with gnarly "motion bases" and lots more at this link.
Shredding the Competition
This Fecon Blackhawk Mulcher Head Is Designed Specifically for Knife Tools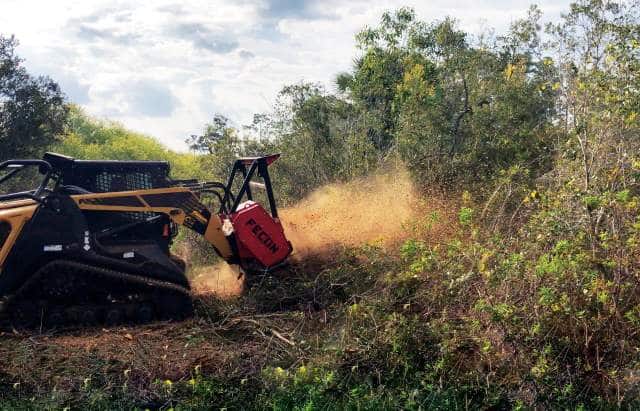 One of the coolest attachments I saw at CONEXPO was Fecon's Blackhawk knife-tool mulching head, which quickly and efficiently shreds standing vegetation and processes material on the ground. Designed specifically as a knife tool mulcher, every aspect of the Blackhawk, including rotor diameter and size, ratio of knifes to rotor, cutting chamber, even the hydraulic lines, contribute to maximize its production capacity. Ideal for skid steer and compact track loaders with hydraulic flows of 27 to 45 gpm, this new mulcher features 30 knife tools and has a 76-in. cutting width. It is an excellent tool for clearing brush and vegetation, shredding material in woodland urban interface zones, clearing rights-of-way, lot clearing and cleanup, site preparation and more. For more info, visit fecon.com.